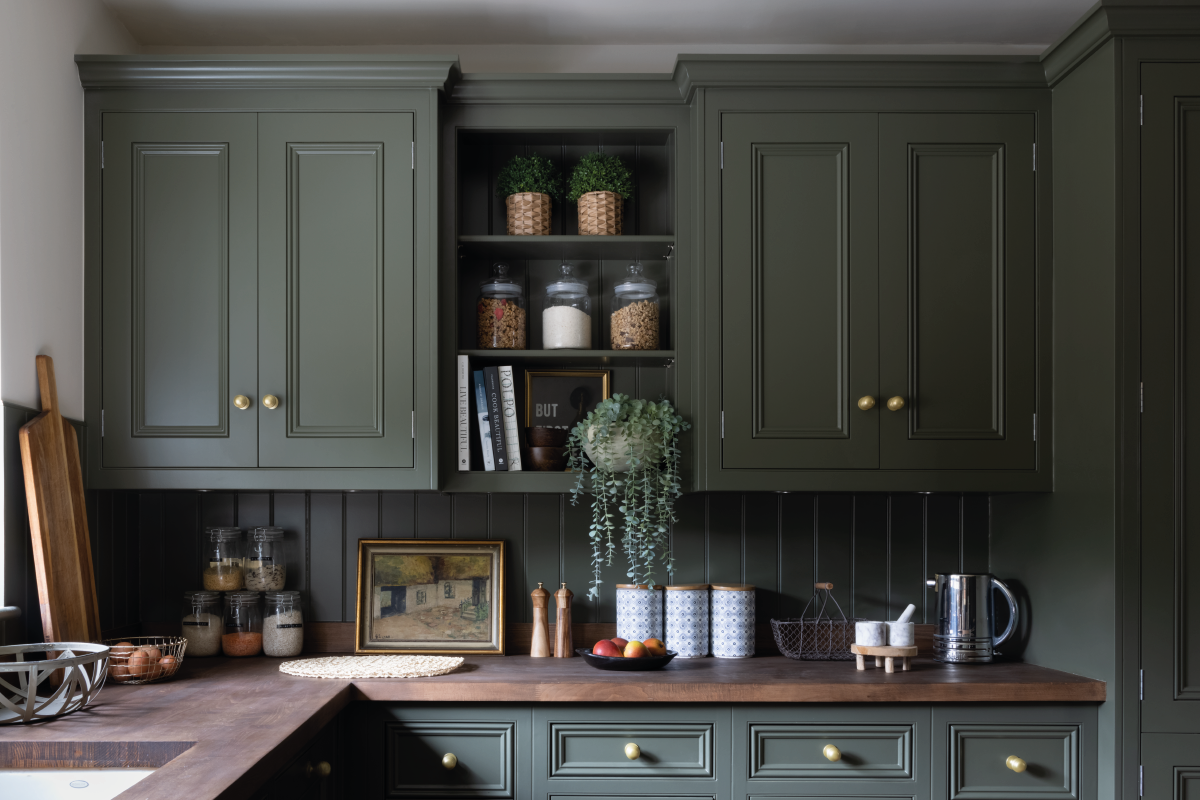 My £47,000 kitchen for….£4,000. Our Q&A with @InteriorAntidote's Claire

Meet Claire, Rehome buyer and owner of marvellous Instagram home decor account, @interiorantidote. We've been sharing Claire's Rehome sourced used kitchen journey from the beginning via our Instagram account (@RehomeUK). With the help of a joiner and a kitchen painter, she's sprinkled her interior design fairy dust all over this kitchen and employed some ingenious money-saving hacks to achieve this look for less. The result?… a luxury interior on a budget that has blown us all away. We just had to have a chat:
"What challenges did you face when sourcing your kitchen on a budget?"
It's a 1920's property, and the kitchen that was in there was from the 80s. We were initially just going to move into the property and sit on it for a couple of years. We moved into a temporary flat for 4 weeks but it turned into ten months – it is a tiny two-bedroom flat, the decor was awful. You couldn't swing a cat in the kitchen. We weren't supposed to renovate the whole house which is why it was a shoestring budget, but it ends up costing more money if you're renovating bit by bit. In the end, we had to renovate quickly. The walls came down & we had the heating and electricity put in. We did most of the reno in 8 weeks!
"What led you to choose an Approved Used Kitchen?"

We had a quote from Neptune but because we got carried away with the renovation, and overspent, my husband was like, "It's not your budget anymore – we need a Primark kitchen!" I searched online for ex-display kitchens and Rehome came up.
"What attracted you to the kitchen you bought?"
It was the timeless style and appliances (the kitchen came with a Rangemaster oven, Siemens fridge freezer, microwave, dishwasher, Perrin & Rowe tap, Insinkerator & extractor). I knew I didn't want anything without handles – I'm not a minimalist. I saw this kitchen and stopped looking. The seller need a quick sale because their new kitchen was due to be fitted, so it was also a case of "wow we can have the kitchen this week!" We put in an offer for £4,000 and it was accepted.
The original kitchen cost was £47,000. I've still got the owners receipts – they kept all the paperwork.
Claire purchased THIS £47,000 kitchen with appliances for just £4,000
"Did you have any concerns about buying a Used Kitchen?"

I didn't know anyone who had done this before. The biggest comfort for me was I knew the kitchen was much bigger than our space and I had more cabinets than we needed, so there was wiggle room when re-designing it. In the end, the cabinets we didn't use I gave to friends, so some are now in a beach hut and some in a mobile home (waste not, want not)!
⭐ Rehome Top Tip: If you want to reconfigure then buy a kitchen slightly bigger than you need so you have plenty of options.
"How did you work out how it would fit in your space?"

I looked through the pictures and the list of cabinet measurements and compared these to our old kitchen. Then I drew the units to scale on a piece of paper. I didn't like the first layout so we spent a good day just rejigging. We have a really good carpenter we've used for ten years so that helped.
"Did you adapt any of the cabinets?"

From one cabinet, we built a cubby hole to break up the wall units. I got this idea from a kitchen studio visit and asked our joiner to copy it. I've also had the unit set back where the teas and coffees are made – so I won't bang my head! Also, we didn't re-assemble the island and integrated these units as part of the main kitchen instead. They were shallower but it didn't matter because we have so much storage in the pantry.
"What other money-saving design hacks did you use?"

We decided to change the worktops and we really wanted walnut but they were too expensive so we bought beech worktops and stained them with a £10 product from Homebase. This saved £600. The handles I had wanted were £30 each, so we sprayed the original handles instead. A decorator colour matched them to the new pot filler tap and had them all sprayed to match.
"Tell us about the stunning dresser unit – we can't see it in the original kitchen:"

This area was originally meant to be open and I was going to have some shelves there but I had bought a dresser off Facebook Marketplace and it just so happened to be the right width, height and depth: It looked fabulous and it's a real wow factor as you enter the kitchen. This is a prime example of adding to a used kitchen to make it yours. Don't feel, just because there may not be enough cabinetry in a kitchen you've seen that it's the be-all and end-all. Take yourselves to your local DIY store for some carcasses and ask your joiner to replicate some doors.
"Tell us about any additional decor details:"

We added the banquet seating & I used tongue and groove panelling instead of tiles. I do like to change my mind quite a lot so if I went for a crazy tile I would get bored. We went for tongue and groove because you can repaint it. Because we were in a lockdown and everyone was renovating a lot of decisions were made because that's what I could get at that time.
"Was the colour transformation an easy decision?"
I love dark interiors, and originally I was going to go for black units but dark paint just shows up everything. The room the kitchen is in is quite dark so whatever paint I put on looked perfect on one wall and different on another, so I probably spent £100 on tester posts. At the 11th hour, I started looking at all these greens. They were all quite olivey. Then I looked at the paint and paper library who have lovely earth tones and I found 'the one' (Horneblende). We didn't even test the colour. We had the kitchen sprayed by the pro sprayers Shaw Decor (Boyd & Craig) they did a blinding job.
*Paint is Renner colour matched to shade Hornblende

"What is your favourite part of the kitchen now it's all finished?"
I LOVE the dresser, and my favourite thing is the pantry! The pot filler tap we added is a favourite too. I end up making different meals every night so we always have something on the go and it's ended up being a real feature. If you're updating your kitchen it's a must.
"What advice would you give to someone looking for an approved used kitchen?"
Be open-minded & prepared to compromise. Our compromise was the worktops as I didn't want quartz. These things become a distant memory when it all comes together. Also, invest in a good joiner!
There you have it – some great advice from the queen of luxury interiors on a budget. If you want to know more about Claire's reno or have questions about buying & fitting an approved used kitchen then email us at hello@rehome.co.uk, and remember to follow us on Instagram @RehomeUK for daily inspiration and best deals.
---