We're proud to partner with Smol to make sustainability a real possibility when it comes to cleaning and kitchenware. With a carbon footprint 35% lower than industry benchmark products. Each time a customer chooses Smol they are making a sustainable choice for a quality product. Smol are eco-effective by design, vegan and with Leaping Bunny accreditation, from product to packaging to delivery - there's a sustainable purpose behind everything they do.
The Rehome community can enjoy 25% off all Smol products.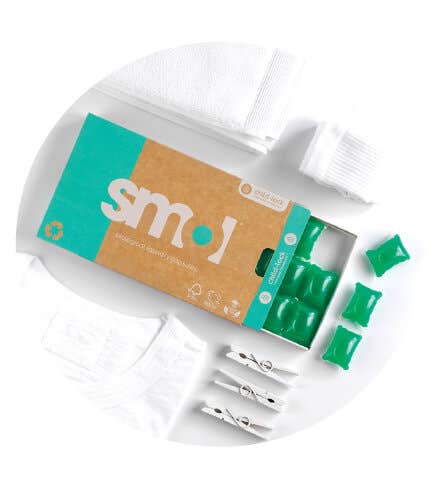 Eco-effective laundry capsules that perform better than leading brands
Less chemicals added per wash – with better performance
smol sprays use concentrated tablets to stop the wasteful transport of water, with reusable bottles.
Animal fat-free fabric conditioner in reusable bottles
smol's laundry capsule pack contains:
24 x bio or non-bio capsules
smol's dishwasher tablets pack contains:
smol's starter kit contains:
9 x bio laundry capsules

9 x non-bio laundry capsules

9 x dishwasher tablets

1 x New returnable/refillable fabric conditioner bottle

3 x Refillable clean surface sprays

1 x mixed kit of super spray refills